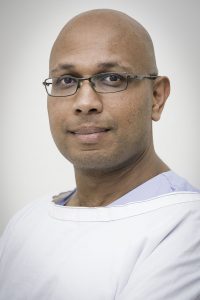 Introduction
Dr Abhilash (Abe) Chandra is an Academic Vascular and General Surgeon affiliated with University of Adelaide and Flinders University. His clinical practice is based in Adelaide (South Australia).
Education And Training
Dr Chandra did his pre-medical studies at the University of Otago in New Zealand, where he developed a strong interest in basic and clinical research. He started a combined MBBS (Hons)/PhD program at the University of Sydney in 1999, and completed it in 2005. He started his General Surgical training in 2008 after completing the mandatory internship and residency years, and passed his General Surgery Fellowship Exam in 2012. He then started his Vascular Surgery training in 2013, passed his Vascular Surgery Fellowship Exam and training at the end of 2016. He is a Fellow of the Royal Australasian College of Surgeons in both Vascular Surgery and General Surgery.
Throughout this period, he has completed two higher degrees (MSc and PhD), written a book, presented over 30 abstracts at national and international conferences, and has over 30 publications. Details of his qualifications, research to date, and further research interests are outlined below.
Areas of Interest
His clinical interests include:
Management of aneurysmal vascular disease (including aortic and peripheral artery aneurysms).
Management of occlusive vascular disease (including complex peripheral vascular disease, carotid artery disease, as well as mesenteric and renal artery occlusive disease).
Management of chronic venous incompetence (including varicose veins and pelvic congestion syndrome).
Management of venous occlusive conditions (including acute and chronic DVTs and May-Thurner Syndrome).
Management of chronic wounds and ulcers (including diabetes-related vascular conditions).
Management of end-stage renal failure patients using a variety of renal replacement therapies  (including laparoscopic CAPD catheter insertion, AV fistula or graft formation, and transplantation).
Management of Entrapment Syndromes (including Thoracic Outlet Syndrome, Popliteal Artery Entrapment, Chronic Compartment Syndrome).
Management of trauma.
Details of each topic are described further in the 'For patients' section.
Consulting Rooms And Admitting Priviledges
In South Australia, his main rooms is based at:
Ashford Specialist Centre at Ashford Hospital.
He operates at:
Ashford Hospital.
Calvary-Wakefield Hospital.
Western Hospital.
Flinders Private Hospital.
He consults at:
Ashford Specialist Centre.
Western Hospital.
Specialist Clinics at Blackwood Hospital.
480 Specialist Centre.
Research
He is interested in multiple areas of basic science and clinical research within Vascular, Trauma, and Transplant Surgery fields.
Military 
He has been with the Australian Army Reserves since 2000, and currently is a Medical Officer based at 3-HSB in Keswick Barracks, in South Australia.